Attorney Brigitte Dönges
(Associate)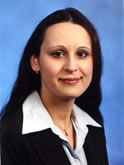 Studies: born 1977 in Friedberg, studies of Law at the University of Gießen (1997-2002, inter alia summer programs in US Law), junior lawyer (2003-2005, inter alia: Veterninary Office of the Regional Board), stay of several months in the USA.
Attorney: practising as lawyer since April 2005, first with law firm Jürgen Häller in Friedberg, in October 2007 admitted at the bar of Frankfurt and practising as attorney with our law-firm Hohmann & Partner, thereafter for one year with the law firm Dönges & Hübner, Friedberg, and now again with Hohmann Rechtsanwälte.
Law areas in which she is active: chemicals law (foodstuff, cosmetics and chemicals law); export and customs law; contract, competition and IP law; criminal business law; company, employment and other business law.
Publications: articles on foodstuff law are planned
Additional knowledge: more than 3 years activity in legal consultation, inter alia: contract, competition, copyright and criminal business law, as well as some aspects of foodstuff supervision law, seminars on employment law; after that (with our law-firm): legal consultation in foodstuff/chemicals law, as well as in export, customs  and distribution law.
Memberships:
–
Wirtschaftsclub Rhein-Main
Business Club Rhine-Main
–
Deutsch-Asiatischer Wirtschaftskreis
German-Asian Business Circle
–
Deutsch-Amerikanische Juristenvereinigung (DAJV)
German-American Lawyers Association
–
Anwaltskammer Frankfurt (Lawyer' s Chamber of Frankfurt)

Languages: German, English and French, as well as Spanish and Swedish
[home] [areas of law] [philosophy] [team]
[publications] [co-operation partners]
[current topics]
[contact]